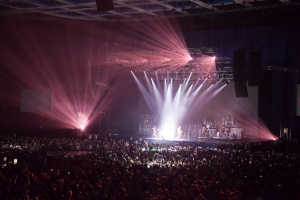 Coachella Music and Art Festival is a majorly celebrated carnival in North America.  Millions of people accumulate to experience the magnificence, thrill and buzz of this iconic festival. However, due to various kind of crowd accumulation, chances of chaos become quite prevalent during such events leading to brawls and fights. So, to control or pacify chaotic situation, it becomes imperative to deploy strict security service to ensure that the event is not disrupted by any such nuisance.
We, Access Patrol Service (APS) is a highly professional security guard company in California that has the  right ability to cater security services to small as well as to large events like Coachella. Our guards are supremely trained in crowd control management and hence they are proficient crowd controllers who can handle unruly gathering in a professional manner. Besides, all our guards are BSIS certified, so no uncertified guards are positioned on the site. So, employing security guards from our organization would guarantee only premium and professional service.
Also, since our organization has been in the security service field for more than 50 years, we are highly competent to cater accurate security service need. We understand, for catering security service to large events like Coachella, it is highly decisive to cover the entire area under strict security surveillance. So, we ensure that our security specialist structures a comprehensive security plan before placing security guards to the site. For this, they first analyze, scrutinize and calculate the entire perimeter where the event will be held, so that apt number of security guards is located on the site for full protection. Besides, right mix of armed and unarmed security guards is also allocated properly to handle critical situation.
Moreover, our guards ensure that flow of foot traffic is under control and no suspicious activities are piled up during the event. So, our guards are highly vigilant, robust and efficient to sense any impending danger and thus have the ability to act immediately. Furthermore, foot patrol and vehicle patrol facility is also provided for keeping a detail check on the site.
In addition to that, our guards use latest technologies to render premium and flawless service. For instance, usage of RFID tags, CCTV cameras, GPS monitoring system, radio transmitters, metal detector, scanning machines, infra-red thermometer, automatic sanitizers etc. are some of the gadgets which are extensively used by our guards.
Therefore, if you are searching for a highly professional security guard company in California, then do contact APS for the same. We also provide customized service facility option.
Contact Access Patrol Services at 866-770-0004 with questions about security guard duties, responsibilities and functions for commercial office properties in California and Arizona or click on https://accesspatrolservice.com