As Restrictions Tighten, Shopping Mall Security Guards Take On Important Tasks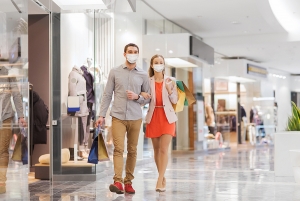 With COVID cases on the rise, shopping malls are facing tighter occupancy restrictions. These new restrictions mean shopping mall security guards are taking on greater roles to ensure customer safety.
In additional to their regular security duties, security guards for malls in Santa Barbara and Ventura are now deployed to make sure all safety and health measures are being implemented. With fewer customers allowed into the mall, it is up to mall guards to monitor the number of customers going in and out so the mall doesn't exceed its capacity limit.
Access Patrol Services (APS) has gained the distinction of being one of the best shopping mall security providers in Santa Barbara and Ventura. In the industry for over 25 years, its response when the COVID-19 pandemic hit was immediate. APS guards were trained to provide health screenings and to institute safety and social distancing measures.
Mall Security Guard Duties. Guards check visitors at entry points and carry out body temperature checks when necessary. Our shopping mall security guards keep a vigilant eye on shoppers and instruct those not in compliance to wear face coverings and maintain proper social distancing. This frees mall and store employees from having to address these issues.
APS security guard' responsibilities also include providing shopper safety and preventing shoplifting and vandalism. Being tech driven, APS installs hi-tech surveillance systems in and around shopping malls and has the ability to monitor feeds 24/7. We also use GPS monitoring systems, metal detectors and scanning devices.
Whether safety against theft or protection from a deadly virus, APS security guards act responsibly and professionally. All security efforts are customized for the client.
Contact Access Patrol Services at 866-770-0004 with questions about security guard duties, responsibilities and functions for shopping centers and malls throughout California and Arizona or click on https://accesspatrolservice.com.