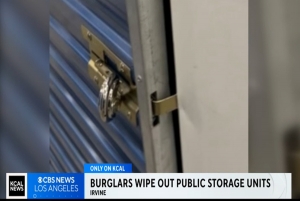 People place prized possessions in storage units, expecting the storage facility to take proper steps to keep their property safe. That's not always the case. Recently, two men ransacked 32 storage units at a facility in Irvine, taking thousands of dollars' worth of valuables. Police say the robbers took their time, spending two hours choosing what they wanted to steal. Security guards could prevent this kind of storage unit robbery.
Protecting Valuables. Storage units are often thought of as giant safe deposit boxes—offering a higher level of security than a home. Yet, sophisticated thieves can easily break into unattended storage facilities. Once in, the thieves can steal without fear of being caught—especially during off hours.
Storage facilities can enlist the services of a security guard company to always have a security officer on site. Another option is for the security company to mount cameras inside and outside of the building that are monitored around the clock by offsite security professionals. If they spot unusual activity, the police are immediately notified.
Access Patrol Services (APS) has been protecting businesses for almost 30 years. All security guards are licensed and can be armed or unarmed.
For more information about storage facility security services and options, call Access Patrol Services at 866-770-0004 or click on https://accesspatrolservice.com.