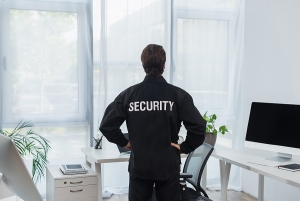 The tragedy at the Virginia Walmart is a reminder that workplace security should be a high priority for all businesses. Strong security measures at work, including a security guard presence, are critical.
According to the Bureau of Labor Statistics, 392 workplace homicides took place in 2020 and 37,060 nonfatal intentional injuries by another person. The service industry, healthcare and education are where much of the violence took place. Here are tips to prevent workplace violence.
Monitor all those who enter a business. If it's a large office, have guests check in with a security guard and indicate who they are meeting.
Have security guards patrol the inside and outside of the building looking for suspicious activity.
Use surveillance cameras that are reviewed in real-time either by onsite or offsite security personnel. If an individual is acting inappropriately, onsite guards can be alerted and sent to the location immediately.
Create an atmosphere where employees can feel free to come to management and voice concerns about a hostile work environment.
Count on Access Patrol Services (APS) to supply trained and experienced security guards to protect your property and workers. You owe it to your employees and customers/clients to keep them safe.
If you'd like to discuss your business's security needs, call Access Patrol Services at 866-770-0004 or click on https://accesspatrolservice.com.
Watch our video: https://youtu.be/_A2uKfjcg9k.