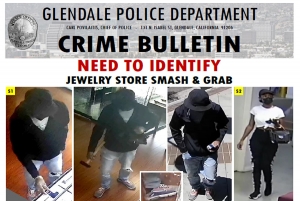 It's happened again. A robber smashed glass displays in a Glendale jewelry store with a hammer and grabbed trays of jewelry before he and an accomplice ran from the store and drove off. This latest robbery highlights the need for security guards at high-end stores.
Insurance Often Doesn't Cover Everything. Most small businesses are underinsured. When a robbery occurs, insurance usually only covers a portion of the loss. Robberies at small businesses also take an emotional toll. Owners are traumatized. They don't feel safe. While no one ever wants to think that a robbery will take place at their store, it's happening more and more.
Businesses often wait until after a crime is committed to retain security guards. By then, it's too late. The time to hire security guards is before a crime is committed—as a prevention measure. A reputable security guard company can suggest how to cost-effectively and strategically use security guard services including optimal hours of coverage and guard location.
One of the top retail security guard firms in California and Arizona is Access Patrol Services. Access Patrol Services has over 25 years of security experience with fully licensed armed and unarmed guards.
For more information about retail security guard services in your area, call Access Patrol Services at 866-770-0004 or click on https://accesspatrolservice.com.