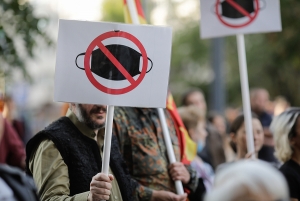 With California requiring most students and faculty to wear masks indoors at school, those who don't agree with the mandate are showing up at school board meetings. The result is often heated arguments and sometimes physical altercations. Security guards at school board meetings are becoming the norm.
Keeping The Peace. School board meetings used to be mostly "business as usual" with little controversy. No more. Between mask mandates and teaching curriculum disputes, parents are vocally expressing their displeasure at these meetings. Verbal and physical attacks on school board members during and after meetings are making the news.
To help keep everyone safe, security guards are being deployed before, during and after meetings. If a member of the public becomes confrontational, violent or breaks the rules of conduct during board meetings, guards remove them from the premises. When meetings end, guards escort board members and staff to their vehicles to protect them from any potential harassment or violence.
Expect the need for security at open governmental meetings to increase as protests continue. Access Patrol Services provides trained security guards for all public venues. APS works with government staff so that guards follow site security protocol. By using an experienced guard service, board members and staff know they can conduct business in a safe environment.
For more information about security for school board, city and county meetings throughout California and Arizona, call Access Patrol Services at 866-770-0004 or click on https://accesspatrolservice.com.